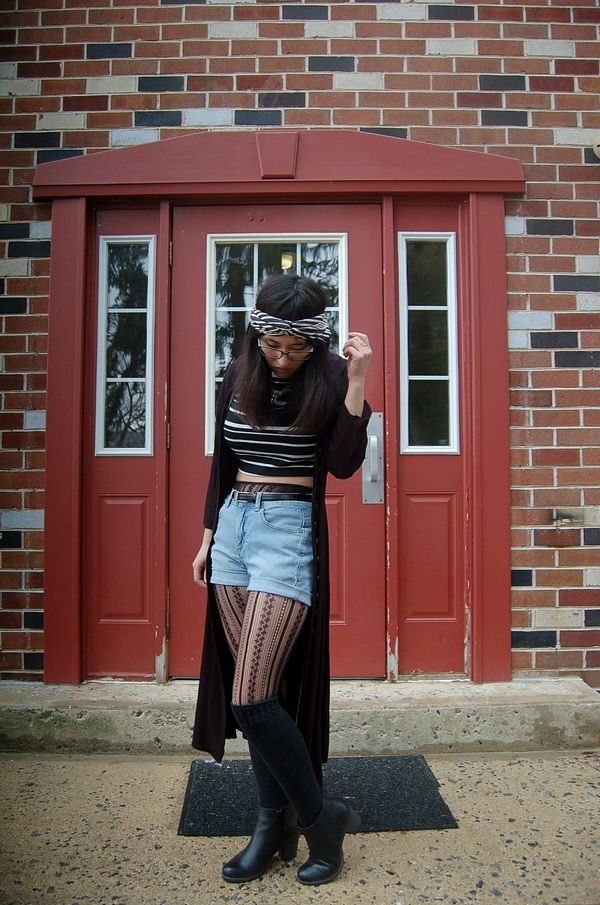 TGIF. I woke up today and did some internetting in my bed and then after a little while I realized a spider was crawling on me!!! I instantly jumped out of bed, screaming, and decided it was time to get ready for the day. I'm not sure if it was the spider or what but once I took a shower and got dressed I was in a super whatever mood and threw this ensemble on. Usually I go through a million different outfit ideas before I actually decide on something but this is the second time this week I actually kept my first choice on. I feel like since it's getting a little warmer it is definitely becoming less stressful to dress myself.
I wanted to reach outside of my usual comfort zone today (Whatever Friday!), and not that I don't wear crop tops, cut off shorts, and intricately see-through tights, but this combo is something I always seem to gloss over when I get dressed. It's honestly a confidence thing...but anyways I also want to talk about this cardigan I'm wearing. It's actually a dress my mom gave me (I wore it in this
post
) and now it's a long layering piece which I'm in love with. Inspiration credit goes to Jenn Im of 'clothesencounters' on Youtube. Who knew I could wear long maxi dresses as cardigans?! That girl is seriously one of my fashion idols right now, check her channel out
here!
Have a lovely weekend all ! xx
Cardigan (dress): vintage c/o mom /// Crop top: T.J. Max /// Shorts: vintage cut off Levi's /// Boots: Clarks /// Head scarf: c/o an old roommate